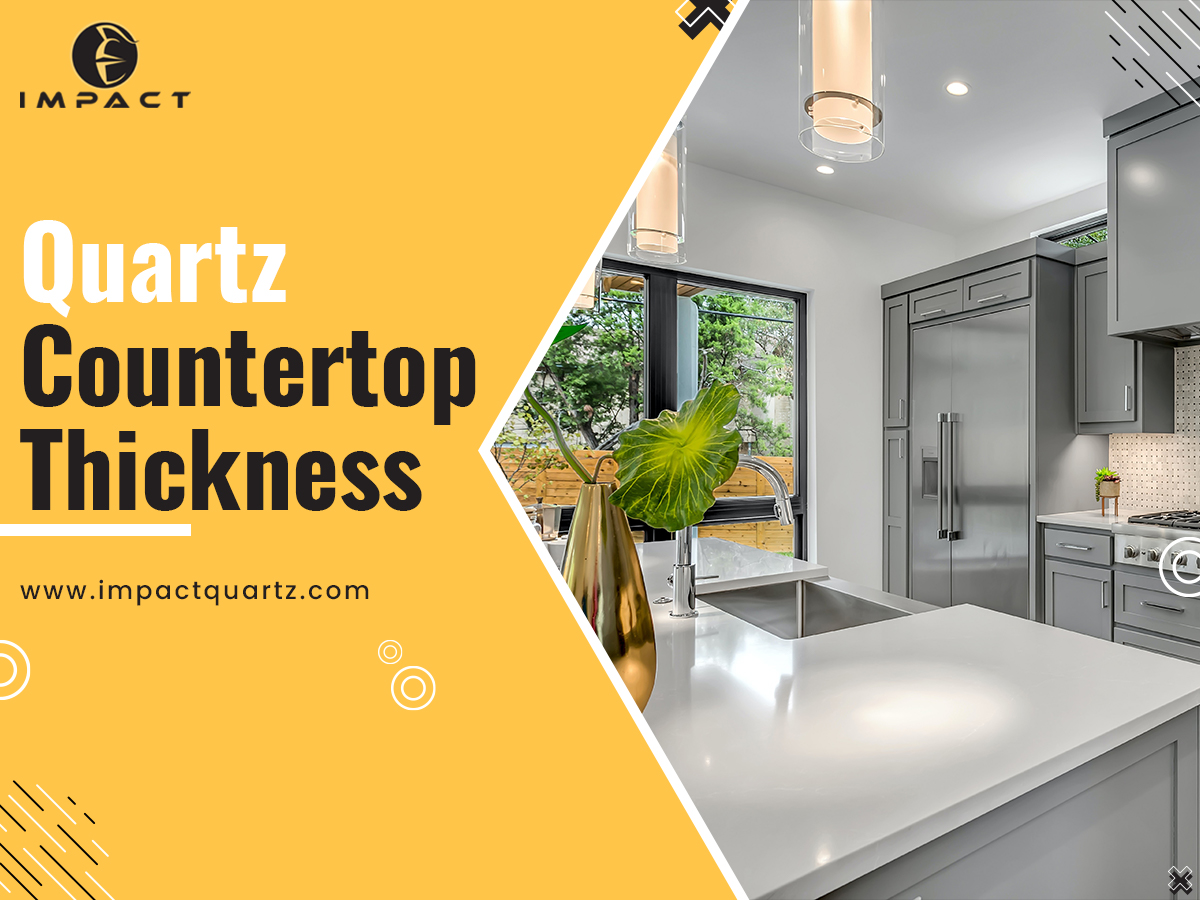 When it comes to choosing quartz countertops, a lot of people don't know that there are certain factors to consider. One of such factors is the thickness of the quartz countertops. You may not realize now, but the thickness of the quartz countertop matters. A lot of us buy thinner and low-quality countertops without knowing what we are buying.
The quartz countertops are very much stylish, durable, and low maintenance. You will find them in different colors, styles, and patterns. Thus, they are a great choice, for both homes and commercial areas. To know which countertop thickness is the perfect choice, you have to examine the area and how the area will be used.
What are the different thickness of quartz countertops?
There are three types of thickness used in quartz slabs for countertops. The countertop thickness is measured in centimeters. Firstly, the standard thickness is 1CM. If it is not possible to bring the exact finish, then you can also get it to 1.2CM. Then there is a 2CM and 3CM of thickness in quartz countertops.
1CM is equal to 3/8″ and 2CM is equal to 3/4″ and 3CM is equal to 1 1/4″. Every type of thickness has an application of its own. Thus, you have to know the importance of different types of thickness while choosing the quartz countertops.
1Cm or 1.2CM
This one is the thinnest available option. They are mostly used in two applications. Firstly, it is used in prefabricated countertops with laminated edges. This is the most popular option. These countertops are also known as "prefab". These slabs are manufactured with edges that are pre-laminated and pre-polished.
The laminated edge is made up of small strips of similar material. It is then glued to the bottom of the slab with precision. Thus, it brings double thickness. You can do it with all other materials. The Prefab quartz countertops have a 2CM body but they also have a 4CM laminated edge.
The Prefab quartz countertops can also have a 1CM body along with a 2CM edge, a 1.2CM body with a 2.4CM edge, or a 2CM body with a 4CM edge. However, there is a common issue with the prefabricated countertops. You will not get a warranty for a long time with these prefabricated countertops.
Vertical Quartz – This is another way 1CM quartz can be used. It is used for wall cladding applications mostly because it is light in weight. The inner material is thin and fragile. However, to increase the durability, it is backed up by plywood or drywall.
The vertical applications also include fireplace surrounds, wainscoting, shower walls. You can also use the 2CM and 3CM for vertical applications. However, the weight will increase. When there are mitered edges needed on areas like outside corners, then the 2CM and 3CM will offer a much better surface area for the mitters' adhesive.
2CM Thickness of Quartz Countertops 
The 2CM is also available in prefab, laminated edges; however, the 2CM quartz without a laminated one is more popular at present, especially for people who are looking for a modern and contemporary aesthetic. Since quartz is stronger and needs lesser support than granite, the thinner profile is used for creating a clean and minimalistic look.
The good thing about the 2CM quartz countertops is they don't need plywood support unless the spanning is more than 24″. Thus, you can install it with lesser support than its granite counterpart. The 2CM quartz countertop along with a laminated edge (also the 1CM and 1.4CM) is mostly seen in newly built houses where the builders want to achieve a much better look at low cost.
3CM Thick Quartz Countertops
The 3CM thick quartz countertops are preferred by most fabricators, kitchen designers, and architects. It offers higher durability, flexibility, and color options. You can use the 3CM material directly on the top of the cabinets without using any plywood or support. For the 3CM thickness quartz countertops, you will not see any laminated edges. These are typically used for achieving a massive and thick look.
Which thickness is the best option for quartz countertops?
Amidst the various options, the 3CM is the best choice for quartz countertops. It offers better flexibility for different designs and also has the highest selection of colors and patterns. Also, when you use the 3CM, there is no need to create a laminated edge for hiding the plywood underlayment. Also, it offers the highest strength amongst the different quartz thickness.
You can also install the 2CM quartz without any sort of plywood support. However, it will need support for the overhangs that are more than 8″. You can seek a more desirable aesthetic appeal, but the thin edge of un-laminated 2CM is not for everyone. Also, it will reduce the overall height of the counters to 3/4″ if you do not adjust the cabinets.
Finally, the 1CM is not used by builders, or if budget-conscious consumers. If you have an audience who are looking for the lowest priced product available while ensuring the look and feel of the quartz countertops, then the 1CM thickness is a good option. Both the 2CM and 3CM are much better than the prefabricated 1CM or the 1.2CM because it needs plywood support. Also, it comes in a very limited factory product size causing seams. You can avoid that using the 2CM or 3CM slabs cut according to the size of your kitchen.
Apart from these three types of thickness, there are certainly other factors that you have to consider while choosing quartz countertops with the right thickness.
Consider the space
You can install quartz countertops in different places. Right from the bathrooms, tabletops, kitchens, bar tops, island tops, bathroom vanities, and more, you can install them anywhere. However, since the kitchen is a focal point of a home, the trend is to use the 3CM material for applying custom edges. As we already mentioned, a 3CM thick quartz countertop is also much more durable. This is important because kitchen countertops have to face more wear and tear.
Consider your area
Consider the area that you live in. Quartz countertops help in increasing the resale value of the house. Thus, you have to make sure that the changes you do to your home are great for resealing purposes as well. There are certain areas where 2CM thickness quartz countertops are popular. However, most of the areas will still prefer 3CM thickness.
Check the patterns and style
Quartz countertops can have multiple patterns and styles. It can mimic the look of different materials like granite or concrete. However, even with so many options available with quartz, not every design will work for every home. Also, not every thickness is suitable for every type of home. There are some spaces that do better with sleek and thin quartz countertops.
You can use them for those areas to get a subtle look. While there will be some spaces that look better with a built edge and a waterfall side. You have to think about what will look best in a certain room. Check the focal points and you might find that a specific thickness makes the best look.
Consider the edge style
You can opt for the eased edge. It is one of the most popular styles for kitchen countertops. It has got a straight edge which is a bit rounded or eased out to avoid any sharp line. However, you will find a lot of options to choose from. Some of these will look better when they are used on a thicker edge, while some of them look best when used on a thin edge.
The decorative designs look better on a 2CM thick quartz countertop. Thus, they are a good choice for a bathroom. On the other hand, a 3CM thickness quartz countertop with eased edges offers a unique look that can also be appealing.
Check the bulk
When you are not using a backsplash, you should check the bulkiness of the countertop. Thicker countertops will be higher and this is why they will take up much more visual space on the wall. This is good if you want to cover up a flaw. On the other hand, if you want to tuck the countertop below a shelf or a windowsill, then you can opt for a 2CM thickness. It will offer you the edge needed to get the job done.
What factors determine the quartz countertop thickness?
Resilience – Thicker quartz countertops are much stronger than the thinner ones. Thus, if you want to install a breakfast bar in the kitchen, you have to choose a thick quartz countertop, otherwise, you will need more support. Also, if you want to use the countertop in areas where there is not much activity, then you can use the thinner ones.
Heaviness – Yes, we do suggest the thick quartz countertops most of the time. However, remember that just because they are thick doesn't mean they are always better. Consider the kind of weight it will carry. For instance, older homes are prone to wear and tear. This is why it is better not to install too heavy or thicker quartz countertops everywhere.
Cost – When it comes to the costs, lesser is always a better option for us. However, thicker countertops will always be an expensive option. Also, there will be an additional cost for transporting them. Thinner ones will cost less, but they are fragile and you have to be careful. Thus, handling them becomes a costly task. Also, you have to buy and install additional support materials for thinner quartz countertops.

With this post, we hope to provide you with valuable advices that will help to make the most of your ideas on countertops. Our journey on creating post as such was made possible by our dear sponsor who supported us every step of the way and that's why we want to tell you about interesting offers that you can look through on a platform for gamblers – SlotoGate. So, if you're looking for the perfect online casino, then you're at a right place as experts of this platform have made it easy to choose the best one by comparing each website's unique features – so you can select your ideal destination. From big game libraries to bonus offers like no deposit new casino bonus and lightning-fast payouts, there's something out there that will surely keep you entertained!