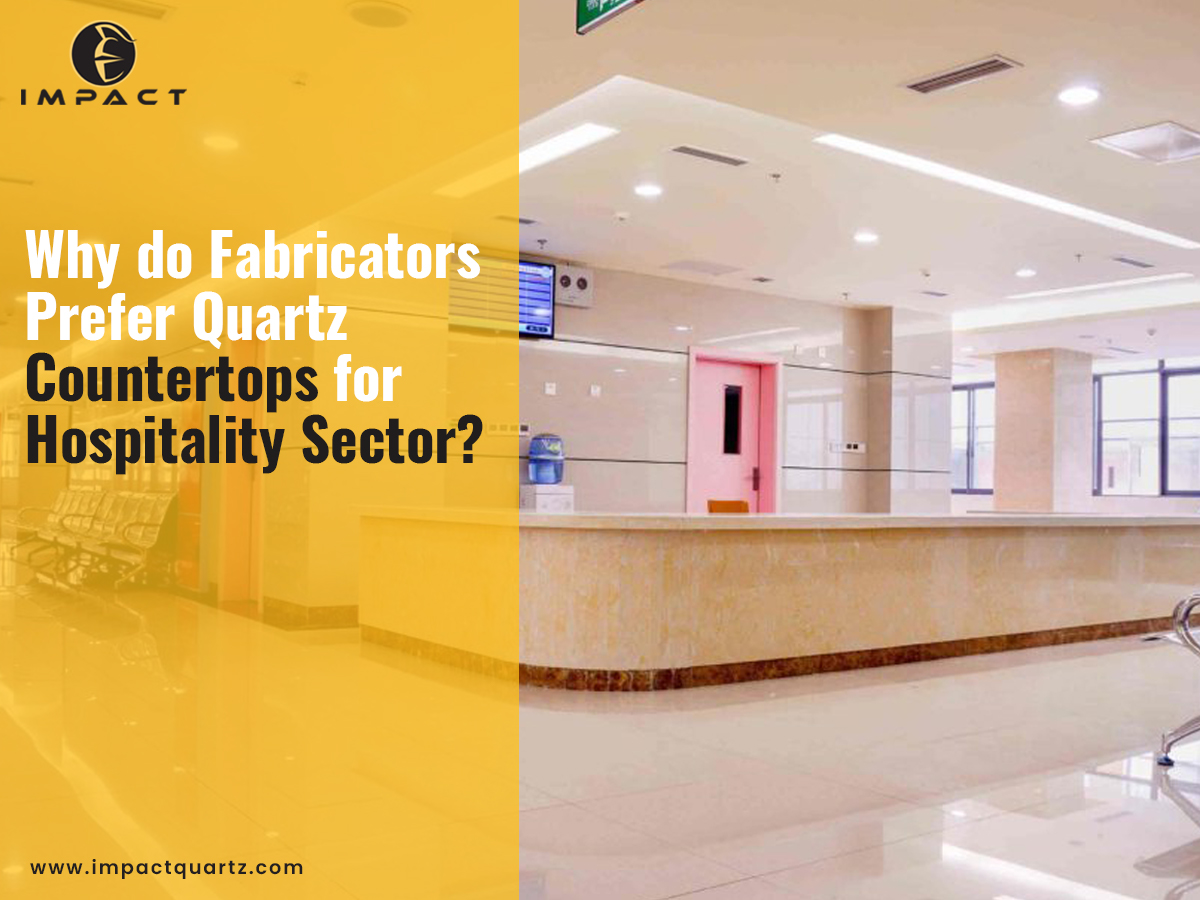 For the hospitality sector, quartz countertops are preferred by fabricators, especially when they are planning for the furniture, fixture & equipment settings of the hospital. In a hospital, the last thing that anyone would want is to increase the spread of infections. A lot of patients visit a hospital with a lot of issues. Thus, the healthcare-associated infection possibilities are high.
Every surface that any individual touches has the possibility to spread pathogens and microorganisms. This leads to infection. Right from the doorknobs, chairs, countertops to any other surfaces where anyone touches can be prone to infections. This is why hygiene is so much important. One of the most common surfaces that anyone comes in contact within the hospital areas is the countertops.
Countertops are found in different areas like reception, breakdown tables, side tables nurse's stations, bathroom vanities, exam room desks, lab rooms and more. Thus, it is important to choose countertops that are durable, easy to maintain and can be cleaned multiple times. Cut-to-size quartz countertops are the answer to all of the above issues in the hospitality sector.
Why Quartz is the Best Countertop Material for Hospitals?
Quartz is an engineered stone and is man-made countertop material. It is composed of 90% crushed stone waste (marble, granite, natural stones, and recycled glass) and 10% cement-based or polymer-binder. This composition is highly beneficial and makes it perfect for a hospitality setting.
Quartz is a beautiful natural stone without needing maintenance. This looks unconventionally beautiful. While creating a healthcare environment, quartz brings design and color for creating beautiful countertops, walls, and tables in waiting rooms. Thus, quartz countertops fabricators suggest using quartz in the hospitality sector.
Hygiene
This is one of the primary reasons why quartz countertops fabricators prefer quartz for the hospitality sector. Unlike any other materials like granite or natural stones, quartz is non-porous. Thus, quartz countertops will never absorb anything that is on it. When there is a need to use materials for hospital countertops, this factor becomes important.
The reason is normal liquids or any other moisture harbors bacteria, which is not good for the hospitals. Quartz will never absorb anything from the surface and thus, it will not harbor bacterial growth. Anyone can easily wipe and clean the surface. Thus, keeping the surface sanitized is easy with quartz countertops.
Cut-to-Size Large Slabs have Lesser Seams
This is also another reason why quartz countertops are so much preferred by fabricators in hospitality. The cut-to-size quartz table tops come in large sizes and this is why there are lesser seams or joints where the two slabs will come together. These joints are the areas where bacterias grow the most. Lesser seams mean a lesser risk of bacterial growth and also lesser sanitization issues. This is very helpful because most of the countertops in reception, nurses' stations, laboratory tables, and exam room desks can be done from a single slab. Thus, no seams!
Durable
One of the best features of cut-to-size quartz is it is highly durable. Amidst all the countertop materials, quartz is the most durable one. This is why quartz countertop fabricators use it for the hospitality sector. Quartz is highly resistant to scratches, cracks, chipping, or any other sorts of damages. When there are countertops that don't get damaged easily, is a great benefit. Also, since there is no need to seal quartz, anyone can clean it repeatedly without being worried about damaging it.
Countertops see a lot of traffic in the hospitality and healthcare settings. Both patients and doctors touch the countertops to keep their belongings, fill out forms, write things or keep charts, and more. Thus, as quartz countertop fabricators, you will need such a material that will not get damaged easily or show any kind of wear and tear. With quartz countertops, you can rest assured that nothing of such sort will happen. Since it lasts much longer than any other material, quartz countertop fabricators prefer to use it for hospitality.
Quartz Can Last for Years
Since quartz is capable of lasting for years, hospitals and doctor's offices use quartz. It is a great investment for doctor's offices and hospitals. As quartz countertop fabricators for hospitality, you can assure them that the countertops will not need to be replaced for quite a long period of time. Thus, you can offer a warranty of quite a long time on quartz countertops. Also, when it comes to renovation and redesigning, in case the hospital is on a budget, it will not be an issue because quartz countertops are very much affordable.
Eye-Catching Designs
Yes, it is true that design elements may not matter a lot for the hospitals, but a cleaner and better design for hospitals is important. Patients and visitors need to feel that they are living in a clean and well-maintained hospital. Quartz countertop design patterns can offer a fresh, clean, and hygienic appeal.
There is no doubt that the visitors' areas, receptions, and bathrooms get a lot of traffic every day in hospitals. When there is a clean and well-designed area that is also durable, that works in a positive way to offer a good impression. When the visitors will see a clean, well-maintained, and attractive countertop, it will make them feel that the hospital too, is clean and well-maintained.
This is why quartz countertop fabricators for the hospitality sector prefer quartz because it inspires a clean and fresh vibe. When space doesn't offer a clean and fresh vibe, it will not attract the attention of the people, regardless of how good the services are. Whether it is something bright and sparkling in the pediatric section or something more subtle, quartz countertop fabricators have a wide array of styles and colors as their options.
 In Conclusion
At present, the fight to control infections in healthcare facilities is not only a facility issue. At present, helping with infection control is extremely important for the hospital's interior design. The different hospital surfaces will play a vital role in creating a safe and healthy environment for the patients and visitors. Thus, quartz countertop fabricators prefer it so much to be used for the hospitality sector.
A lot of doctor's offices and hospitals are shifting to quartz countertops to get the best results. They are highly durable, easy to take care of, affordable, comes in a lot of designs, and last for years. Also, there is no special care needed and they won't crack easily. All these features make the quartz countertops a great investment for the hospitality sector.
When there are no worries about replacing the countertops frequently. Thus, the remodeling costs are reduced. As a quartz countertops fabricator, you can guarantee that the hospitals will benefit a lot from the initial investment in quartz. Yes, there are other varieties of countertops as well. However, if you want to offer the best to the hospitals, then quartz is the answer.