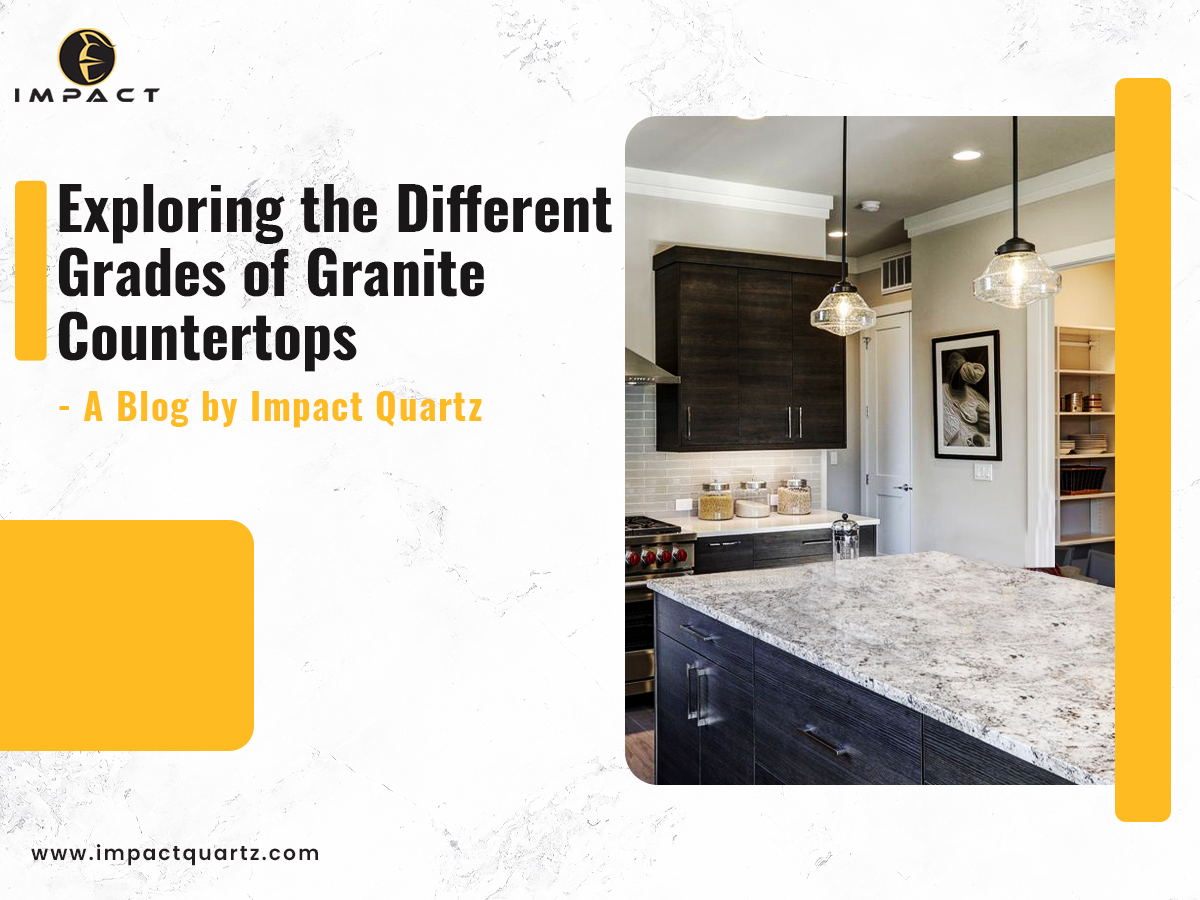 Being a granite fabricator, you would obviously come across different customers who want to redecorate their home interiors and kitchen spaces with cut-to-size granite countertops. This is no doubt a great choice. Yes, it is true that there is a very strong competition between granite and quartz countertops, but granite countertops are beautiful as well.
The granite countertops are a very durable addition to any section of your home, right from the kitchen countertops to the bathroom sinks. The best part is, this stunning stone comes in a wide array of colors and patterns. Thus, the granite countertop fabricators in Massachusetts prefer it to match the unique taste of their customers. The surface of cut-to-size granite countertops will not stain or chip for quite a long-period.
Now, the question is, how shall you know if the granite slab is of the best quality? This is where you have to know about the different grades of granite countertops that are used. The tier of granite, aka the grade, is how we classify the durability and value of a granite countertop. When it is about choosing granite countertops that will last for a long time, you would surely want the best and highest quality for your customers.
As a granite countertop fabricator, you have to make sure the remodeling of a kitchen is done with the best materials of countertops. Our experts at Impact Quartz have brought the details on how cut-to-size granite is graded and also the information behind how every granite grades to help you in getting the best for your customers.
How is Granite Graded?
In simple terms, there are few factors to consider while grading the granite countertops. They are as follows:
The Origin
It is possible to source granite from different parts of the world. You cannot define a certain place where granite is better than any place. However, the source of granite can have an impact on the cost. For instance, when you order granite from China, it is one of the most affordable options. However, when you order from Brazil or Italy, the cost of granite becomes more expensive. The reason is, cut-to-size granite is a very heavy material. Thus, it is more expensive to ship. Thus, where it is coming from and how it is being shipped can have an impact on the cost of the granite countertops. According to professional granite countertop fabricators in Massachusetts, the best option for a local remodel is to opt for granite shipped from the U.S.
The Thickness
The thickness of the granite is also another important aspect to consider while grading the granite countertops. Remember that granite is a completely natural material that is obtained from the earth. Thus, most of the times, they are cut in giant slabs which are manufactured into small pieces. They are slim and much more manageable. However, to make things more convenient, these pieces are sometimes manufactured into super thin pieces that will negatively impact the durability of every slab, especially in the cases where it is cut down to lesser than one inch thick. Therefore, a thicker slab of granite is much more durable and is considered to be of higher quality. Yes, they will also cost more too! Thus, when you have to consider the durability for multi-family use, the granite countertop fabricators suggest looking for 1 to 1 ¼ inch in thickness for multi-family usage.
Visual Appeal
There is no denying the fact that, when you have to fabricate a granite countertop, how it looks will matter. The visual appeal of both granite and quartz countertops are best for remodeling the kitchen or bathroom areas. Thus, while choosing a granite slab, it is important to check for any scratches or any other uneven areas. Initially, these imperfections might seem unique but they can also increase the chances of breaking or cracking the slab. High-quality granite must have the durability for resisting marks, cracks, and nicks. Thus, if it is already damaged, that is not a good sign of a high-quality slab for commercial usage.
 The Porosity
This is the key while choosing a durable granite stone. Depending on the stones and minerals which make up the stone, the porosity will vary. In a long term, this will impact the looks and feel of the granite stone. Also, if granite is porous, it will stain more because it absorbs the liquid quicker. Thus, it will become difficult to maintain. Being a granite countertop fabricator in North Carolina, it is not a good idea to suggest granite stones that are porous.
Granite Grade Quality Classification
Now you have got an idea of how granite is based on different grading elements. Let us share what every grade means. Did you know that there are different grades of granite countertops? They are broken down simply into three "levels" – Levels 1, 2, and 3.
Level 1: The Entry Level
The Level 1 granite is the entry-level granite, which is also the commercial-grade or the builders-grade granite. This is low-grade granite. It is mostly sourced from China; they are pre-fabricated and also found in the different apartment or remodel homes. The level 1 granite slabs are thin. They are 3/8th of an inch and will need plywood backing for increased durability for multi-family use.
However, it is important that you don't let the low grade fool you. The thin slab doesn't mean that it will not look good. Normally it comes in a simple design that lacks color variation, but it is great for a more understated look. Also, it comes at a much more budget-friendly price for those who are looking for a granite stone within a budget.
Level 2: Mid-Grade Granite
Level 2 is mid-grade granite that offers much more color variation in the designs than Level 1. This type of granite stone is imported from Brazil or India. They have more pattern variations and it looks more unique than many other granite stones. The Level 2 grade stone is a bit thick, around 3/4 inch. Thus, it is more durable. Yes, it is true that it can withstand more, but it comes at a lower price than the high-grade stone. Thus, it is so much preferred by granite countertop fabricators in North Carolina.
Level 3 – High-Grade Granite
Any grade of granite that is Level 3 or above is known as high-grade granite. This is one of the best and finest qualities of granite stones available in the market. This kind of granite stone is incredibly unique in appearance and is imported from India or Brazil. When it is about high-grade granite, the thickness is mostly between 3/4th of an inch.
It might be more as well. This will also come in rare colors, patterns, and veins to offer a unique finish. It is important to remember that you should not stop at level 3. There are a lot of granite grades that go as high up as 7. If your audience really wants a high-quality granite stone, as a granite fabricator in Austin, you can go above level 3.
There are certain factors to consider defining the difference between the different grades of granite stone. Whether you get a Level 1 granite slab or a Level 3, rest assured that the functionality will remain true. Granite can withstand scratches from multi-family use, high temperatures and also need less maintenance. What differentiates them in their different levels is their appearance and durability.
From the different colors, patterns to the unique designs, with higher levels, the rarer the granite stones become. The grades also offer a pricing ladder. With the increase in levels, the price also increases. Thus, as a quartz countertop fabricator, you have to offer your audience a granite stone that comes in their budget.
What is the Granite Grade Price Classification?
While getting the right granite stones, you shall notice that there are classifications according to A, B, C, D, E, and F grades. In this classification, grade A granite (similar to level 1) is the most affordable one. Thus, you might think that the grade F granite stones are of the highest quality.
However, that is not the scenario. These grades depend on pricing, supply, and demand. Thus, if a slab comes in a unique color which they don't have a lot, it will be graded as D and the price will be high. Here it is not related to durability.
As we mentioned before, you will get good quality material regardless of the grade you choose. A higher grade doesn't guarantee that you will get a higher quality. Thus, you have to select the budget of your audience and then check accordingly for the slab of your choice.
How to Choose the Right Grade of Granite?
While choosing through the different grades of granite and finalizing one for your audience, the choice of a granite fabricator in Austin will come down to you and your preferences. Yes, the decision is up to you, but here are some factors to keep in mind.
Price – This is an obvious factor. However, your budget can only help you figure out whether you want to go with grade A granite countertops or grade D granite. Yes, both of them are good choices, but there will be slight variations in the looks and the thickness.
Color – There are different grades of granite countertops that tend to signal different color varieties and increased patterns. If you are looking for a simple design that goes with everything, the level 1 granite will get the job done. However, if you want to get a stone that has a very unique color and pattern, then you have to choose a higher-level granite.
Size – Quartz and granite fabricators also consider the size and quantity of the slabs needed to complete the project. A higher grade might offer many more unique stones but they will also come in limited quantity. Thus, when you are planning a kitchen or bathroom renovation for commercial spaces, it is better to take note of the size of the granite.
 Conclusion
Now that you are aware of how granite is graded and also the details on the different grades of granite countertops, the choice will be yours. You can opt for level 1, level 2, or level 3 granite stones. As a granite fabricator in Houston, you can rest assured that regardless of the level of cut-to-size granite you choose, the countertops will elevate your space. The kitchen countertops are the centerpiece of any kitchen. If you want to explore the wide array of quartz countertops for selecting the perfect stone for a kitchen, then you can always get in touch with Impact Quartz.