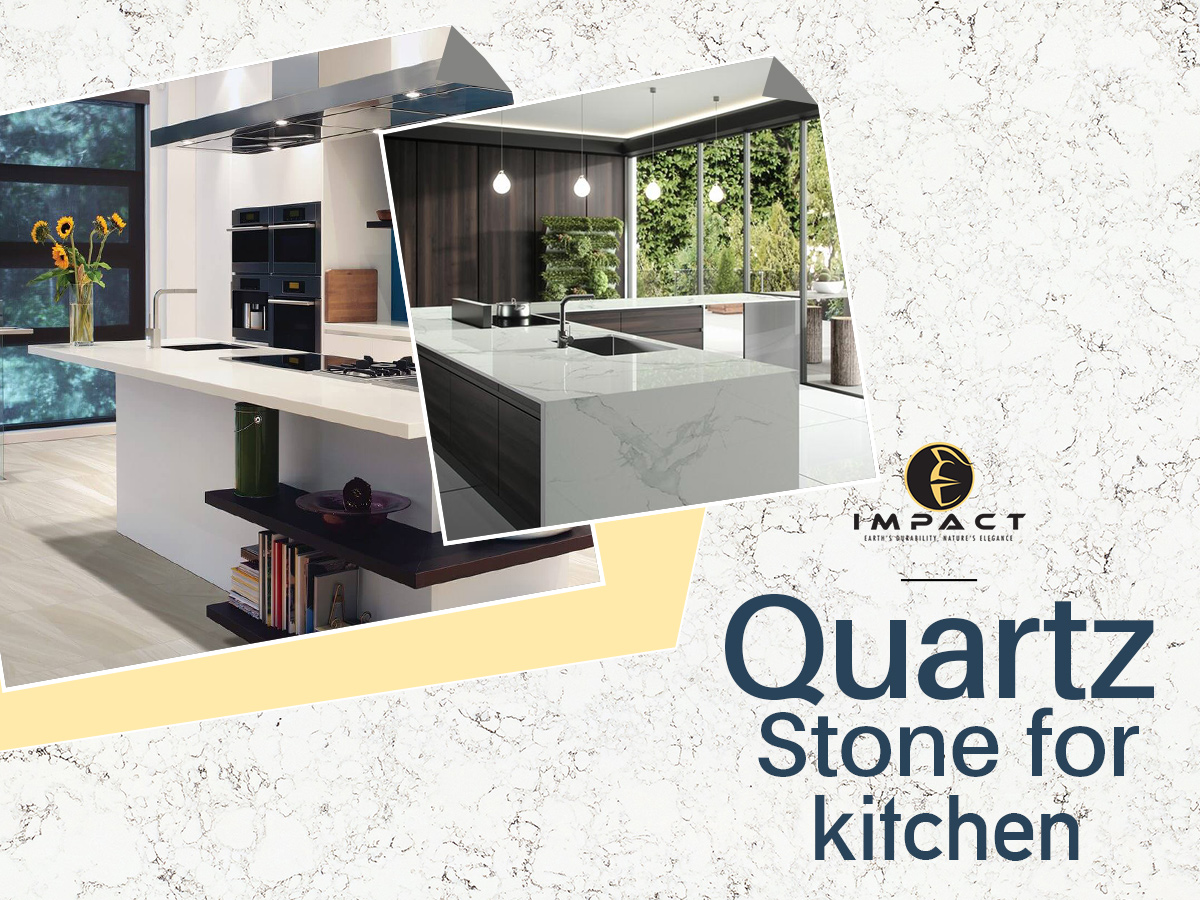 When it comes to choosing the quartz stones for the kitchen, you will find a wide array of options. Quartz stones for the kitchen are one of the best materials you can use as countertops. There are so many variations in design and patterns available. Also, quartz stones are extremely durable.
As a designer or a fabricator, you might find it difficult to choose between quartz or granite. Let's face it, we cannot deny that granite is also a good choice for kitchen countertops. However, quartz stones for the kitchen have got an edge over the granite. How? In the following section of the blog, we shall share the 10 benefits of choosing quartz stones for the kitchen.
| | | |
| --- | --- | --- |
| SL NO. | Quartz stones for kitchen | Some additional information on quartz |
| 1. | Quartz – preference as a material | 51% population of the USA preferred quartz stones for the kitchen. |
| 2. | Micro Crystalline Quartz | Made up of visible crystals or grains. Examples- sandstone and rock crystals. |
| 3. | Crypto Crystalline Quartz | Made up of compact aggregates of microscopic quartz crystals and crystallites. |
| 4. | Optical features | Quartz is optically active which offers a glossy appearance to the naked eye |
| 5. | Quartz Morphology | Quartz is available as individual crystals and crystal aggregates and quartz crystals show 80 different crystallographic forms. |
| 6. | Quartz Availability | The largest amount of quartz is available in a rock-forming mineral also known as silica-rich igneous rocks. |
| 7. | Quartz reaction | At extreme higher temperature and pressure, Quartz is dissolved into watery fluids. |
What are the benefits of choosing quartz stone for the kitchen?
Before we get into the advantages of using quartz stone for the kitchen, you should know that quartz stones are 95% natural and 5% polymer resins. They are engineered stones. Now you might think that how can an engineered stone become more preferable in kitchen countertops? Here are the reasons.
      1. Quartz is more uniform
Since quartz is engineered and manufactured, it has a uniform appearance. If you want to have your kitchen countertops to have a consistent and uniform appearance, then you should opt for the quartz stones for the kitchen. Quartz has a clear advantage here over any other forms of materials for the kitchen.
      2. Easier to repair
This is one of the most important benefits of quartz stones for the kitchen. Since they are uniform in nature, it is easy to repair the quartz stones. Also, remember that it is incredibly unlikely for a quartz stone to get chipped in. However, even if it does, replacing a broken piece is very simple for quartz countertops.
      3. A wide array of colors and patterns
Being a designer, you would obviously want to offer more color variants and pattern designs for your customers. Here is where quartz stones for the kitchen will offer you more options. You can find quartz stones in virtually any color you want. Thus, no matter what the color of your interior is, you will find a combination of quartz stones that goes seamlessly with the kitchen.
      4. Quartz stones are eco-friendly
Since quartz stones are created from recycled and local minerals. Thus, it is much more environmentally friendly than granite. On the other hand, granite has to be mined out and then transported for long distances to be processed. Thus, it is pretty rough on the environment.
      5. Lesser maintenance
Quartz stones for the kitchen need lesser maintenance. You won't have to worry about resealing the countertops every year. Also, you can use all sorts of cleansers every day. Quartz doesn't require any sort of special care. It is highly durable. Thus, you won't have to worry about it for a long time.
      6. Quartz is antibacterial
Again this is something that you should not ignore. Quartz is not porous and this is why it can resist bacteria. You won't have to clean it regularly to get rid of the bacterial elements. Being non-porous, quartz stones are ideal options for both kitchen and bathrooms as well.
      7. Quartz can mimic any material
This is one of the unique features of quartz stones for the kitchen. Since quartz is available in different colors, it can mimic the look of other stones too. Thus, your kitchen can get the look and feel of any stone if you choose quartz for the countertops. You can even make quartz look like white solid surface countertops.
      8. Quartz comes with a longer warranty than other stones
Since quartz is highly durable you will have a long warranty on the quartz countertops. Also, the chances of you having to use it very low, however, even if you need it, you can always get the warranty. The best thing is, most of the quartz counters come with lifetime warranties. Quartz is almost indestructible and is highly resistant to corrosion. You will not find such similar durability in other stones.
      9. Selection of finishes and edges
Most of the countertops will not offer you a wide array of finishes and edge profiles. However, that is not something that happens with quartz stones in the kitchen. If you are looking for a material that looks polished and shiny all-year-round, then you should opt for quartz stones for the kitchen. It has a honed finish that is identical to a matte-like finish all the time.
      10. A comparatively affordable option
You can look for any number of options you want for your kitchen countertops, but it is pretty much sure that you won't find more a more affordable option than quartz stones. The quartz stones offer an excellent look and feel within an affordable price range. This is why quartz stones are so much preferred all over the world.
These are the top 10 reasons why you should opt for quartz stones for the kitchen. As a designer, you will have a lot of options when it comes to offering the right kitchen countertops for your customers. However, there are certain basic elements that you cannot compromise. The variety of materials, budgets, aesthetics, maintenance, durability, and more.
Considering all of these elements, the best option is to go for the quartz stones for the kitchen. However, you should also take care that quartz stones are to be used only indoors. You cannot use them outside because the material is susceptible to fading by intense sun. It will not be able to withstand the exposure to the sun and also the warranty will no longer be available.
Why should you choose Impact Quartz for quartz countertops?
One of the primary reasons to choose Impact Quartz is you will find your exact specification at Impact Quartz. Our customized collection of quartz stones for the kitchen includes the following:
Ravinia
Tuscany
IVY
Stratus
Snow Flurry
Carrara Cloud
Cumulus
Calacatta Grigio
Gold Coast
At Impact Quartz, you shall have the impeccable product that you are looking for your audience. Since we work closely with the designers, architects, and fabricators, we make sure that every product is perfectly designed and manufactured according to the specifications.
Your time is precious and this is why we make sure that the delivery of your product is absolutely on time. We are your one-stop-shop for every quartz countertop requirement for kitchens. In terms of quality and aesthetics, customer satisfaction has always been a top priority.
We have got a wide array of tailored solutions for kitchen countertops. Whether it is for a residential building or a corporate building, we have got carefully curated quartz countertop products. Once you have a look at our collection of quartz countertop products, you will know what makes us different.
We have got the experienced professionals that manufacture premium quality quartz countertops for different interiors. Quartz stones are available in different patterns and designs. Thus, our experienced professionals will be there for you throughout the complete process from pattern finalization to manufacturing the finished product.
At Impact Quartz, your investment will get you the best quality of the product in return. Manufactured exactly according to the specifications, your audience will have the perfect finished product.
The quartz stones for the kitchen are gaining popularity among homeowners. while the primary use of quartz continues to be in the kitchen and the bath counters, you can also use them in the backsplashes, shower stalls, shower entries, even fireplace surrounds, and tub decking.