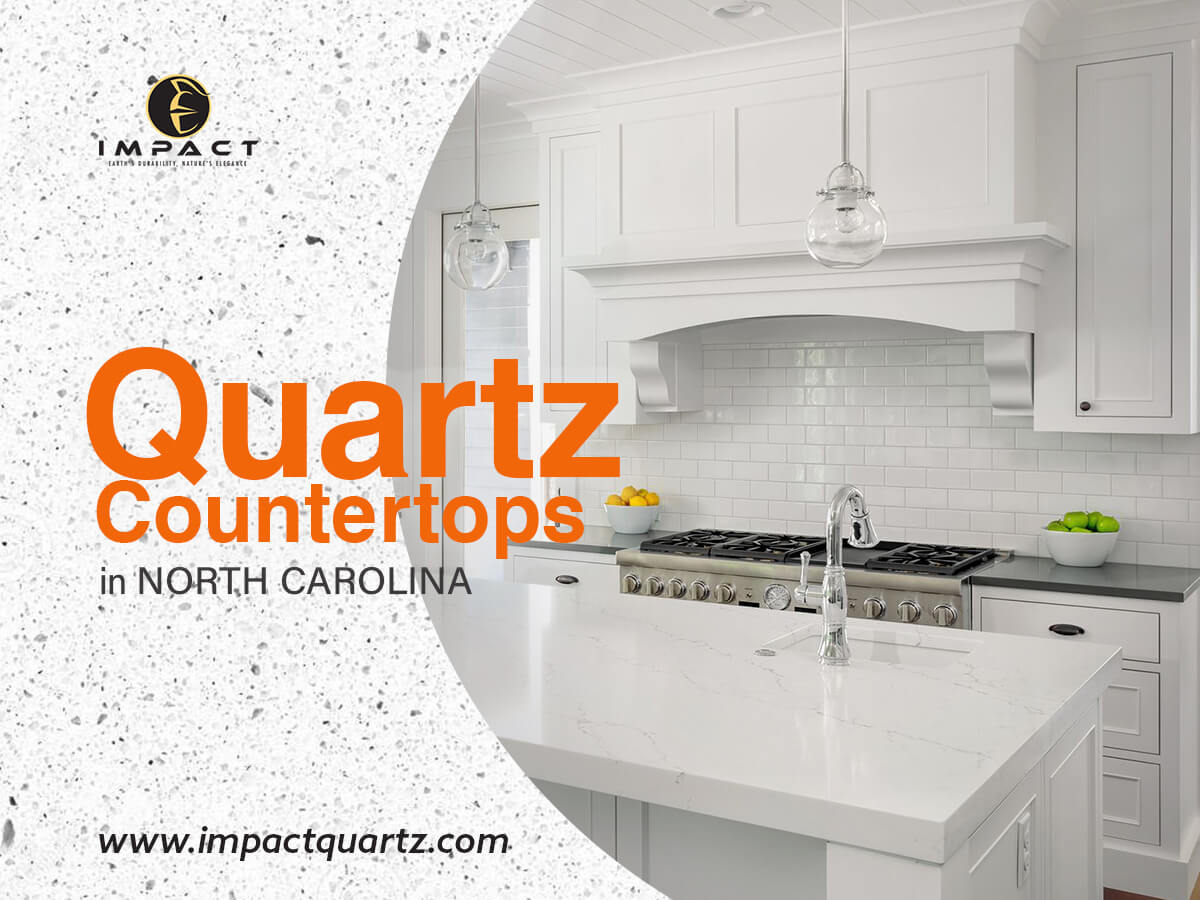 When it comes to choosing the best quartz countertops in North Carolina, very few can match up to the standards of Impact Quartz. This is something Impact Quartz is proud of. We manufacture the highest quality quartz countertops in North Carolina.
Quartz is one of the most durable engineered materials. It is also resistant to heat and stain. Thus, it is an ideal choice for busy cooking spaces and bathrooms. In the manufacturing process, there is 95% ground quartz, which is why it is one of the hardest minerals on the planet.
Being highly resistant, durable, and available in a large amount in nature, Quartz is such a popular choice. Quartz countertops in North Carolina are made up of ground-up particles of stones and fused with space-age plastic resins.
Since quartz is not porous like granite, you can all the material almost indestructible. At Impact Quartz we work closely with the designers, fabricators, and developers to make sure you get exactly what you are looking for.
We present you the largest selection of quartz countertops in North Carolina, manufactured by experienced professionals. Being a designer, you will look for premium quality designs for your clients. That's exactly what we have for you.
Impact Quartz is the place where quality meets affordability. Whether you are looking for quartz countertops for residential buildings or offices, we have got everything for you. We offer nothing but the best quality of materials and the finest finish.
Why should you choose Impact Quartz?
First of all, once you choose to invest in the products of Impact Quartz, rest assured that your investment will get you the best. Not only our products meet the accurate specifications, but also, we offer the highest form of customer services.
Right from the designing process to the manufacturing of the complete product, everything will be according to your exact specifications. Impeccable designs and delivery are what make us better than the rest in North Carolina.
For the complete phases of designing, manufacturing, and consultation services for quartz countertops in North Carolina, contact Impact Quartz. Once you have a look at our collection of quartz countertop designs, you will know exactly why our designs stand out.
At Impact Quartz, we have carefully curated a wide variety of quartz countertop designs that offer the best in aesthetics and quality. Therefore, you will get nothing but the best. Our focus is to offer every designer, developer and fabricator with the perfectly finished product.
You can get your quartz countertops delivered in different areas of North Carolina. These include, Raleigh, Charlotte, Durham, Asheville, Greensboro, Wilmington and more. As the pioneer in manufacturing the highest quality quartz countertops in North Carolina, here are our specializations:
Ravinia
Stratus
Gold Coast
IVY
Carrara Cloud
Cumulus
Snow Flurry
Calacatta Grigio
Tuscany
You can rely on us because we are a trusted organization throughout North Carolina. Another important reason why you should choose us is, we always keep in mind the delivery time. Your time is valuable to us. Therefore, we make sure every delivery of quartz countertops in North Carolina reaches on time. We offer the best value for your money.