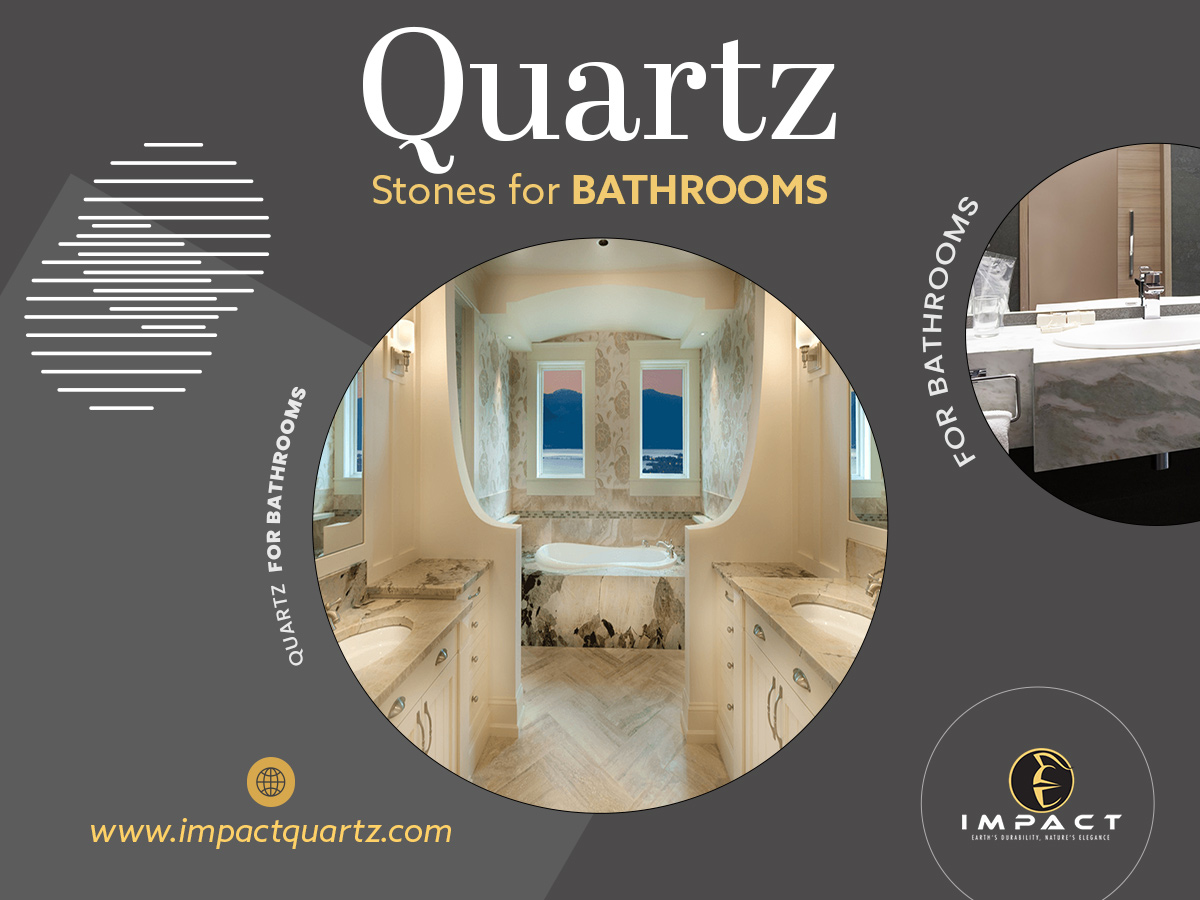 There is no doubt that the bathroom is one of the most important sections of your house. When your bathroom looks great, the interior of your house starts to feel great as well. Quartz stones for bathroom can be the best countertop material to choose for your bathroom. When you have the perfect countertop material, the value of your home increases.
Now, since we mentioned the quartz stones for bathroom, you might wonder, why should you choose quartz stones in spite of so many materials available? This blog will answer your question. In this blog, we are going to share the reasons why quartz stones for bathrooms are your best option.
What are the benefits of choosing quartz stones for bathroom?
You cannot disagree that the washrooms/bathrooms are the Petri dishes of your home. Therefore, it is the perfect environment for all sorts of germs and bacteria to form there. With every toilet flush, sneezing, sprays, and toothpaste spittle, who knows what lands on the surface of the bathroom. These elements stay there until they are sanitized or wiped away.
Now, materials like marble or granite look great, but they are porous. Therefore they hold on to some of the germs and bacteria, especially on the bathroom countertops. This can cause a lot of airborne diseases.
However, with quartz stones for bathrooms, it cannot be possible because quartz is non-porous. Also, it is highly durable. Thus, it is a perfect choice to have an easy-clean, sanitized, and beautiful bathroom.
Yes, we know that no bathroom can be 100% germ-free but with quartz stones for bathroom, you can maintain a high quality of comfort and sanitation
This is one of the most important advantages of choosing quartz stones for bathrooms. Homeowners who regularly color their hair, make use of the self-tanning products or other messy self-care items, are the perfect candidates for quartz stones for bathrooms.
Since quartz is engineered to be highly stain-resistant, you can go ahead and bring the cup of coffee or the wine glass into the washroom with you. If you have got a quartz stone countertop for your bathroom, worry no more about the coffee rings, hair-dye drips, self-tanner spills, or oil stains.
If you are a parent, then you will know that how everything in your home is vulnerable to getting broken at any time. Countertops are no exception. If you are looking for a surface area that can withstand the little feet, messy teenagers, regular morning routine rough-housing, and primping, then quartz stones for bathroom are the best option. Quartz can withstand wear and tear for a long period of time. Thus, you have one less thing to worry about getting damaged while installing.
Apart from being stain-resistant and durable, quartz is easy to maintain. You can use all sorts of detergents, cleaners, and hand soaps. Rest assured that quartz will be able to maintain the beauty and performance of the countertops for years to come.
You will find a lot of abrasive chemicals that you cannot use with materials like marble or granite. However, you can use all sorts of cleaners or room sanitizers with quartz. Quartz stones for bathroom don't require sealing or adding oil to the cleansers to dilute.
Also, you can clean it up with just soap and water. Thus, this is very easy to maintain.
Design, style, and patterns
When it is about cleanliness and consistent coloring, quartz stones are the best option. Quartz stones for bathrooms come in contemporary and minimalist designs. Some of the designs include monochromatic clean lines in the overall aesthetic. If you are planning to create a clean, clear, and bright surface on your bathroom, then quartz is the way to go.
On the other hand, if you are planning to create a smooth black bathroom countertop surface to offer your audience a dramatic masculine feel, then too, quartz can do it for you. The best thing about quartz is, it is engineered to fit in different variety of colors, styles, and shapes. This is why it is the perfect material for anyone who wants to create a cool and customized bathroom design.
If you have got a custom-made older home, then your bathroom might need a special sized sink. You may not find it right out of the box. However, engineered quartz stones for bathroom are the best answer for creating a sink of customized shape and size. The simplicity of the materials also makes it a great choice for matching fixtures, sinks, and all other forms of accessories.
Also, quartz is highly in demand now. Thus, if you have plans to sell the house, then refreshing your bathroom vanity or countertop with quartz is a good option. Even if you are looking to get the benefits of quartz but want to have the look of a natural stone, then too, quartz is a great option.
Since quartz is engineered to mimic the look of any material, including granite and marble, a lot of people find the finished look of quartz to be much more lustrous than the natural material it is modeled after.
A lot of us might think that does the comfort of a bathroom countertop really matter? Now, the feel of a bathroom countertop is not something that we would consider. However, for a bathroom it is important. We shall tell you why. Imagine leaning to look into a mirror while brushing your teeth, suddenly you jab your hip against the hard counter edge. It hurts, doesn't it? Think about the soft and sensitive toddler belly leaning into the sink to wash the hands.
Quartz offers a 'softer' and a more forgiving touch than natural stone, concrete, or marble. Other materials can feel harsh and cold, but not quartz stones for bathroom. When it is about updating your bathroom countertops, you will come across a wide array of options to choose from beyond price points, colors, and patterns. Consider the full scale of what your audience will need in terms of durability and performance, and might just see that quartz stones for bathrooms are the answer to your bathroom upgrades.
With this post, we're excited to share the advices and to provide you with the knowledge that will help you to learn the benefits to reap from quartz stones. Our adventure to success was made possible by an incredible sponsor who gave us unwavering support throughout our journey, so we want to recommend you a platform with great games from top providers that will definitely satisfy you with a variety of themes and types. You can discover amazing table games and find all the answers on questions like what are the roulette payouts. If it's your first time enjoying some of the games – don't be afraid to get puzzled as this platform has rules for most of them. There are a lot of options to uncover, so don't hesitate and visit to try something special!