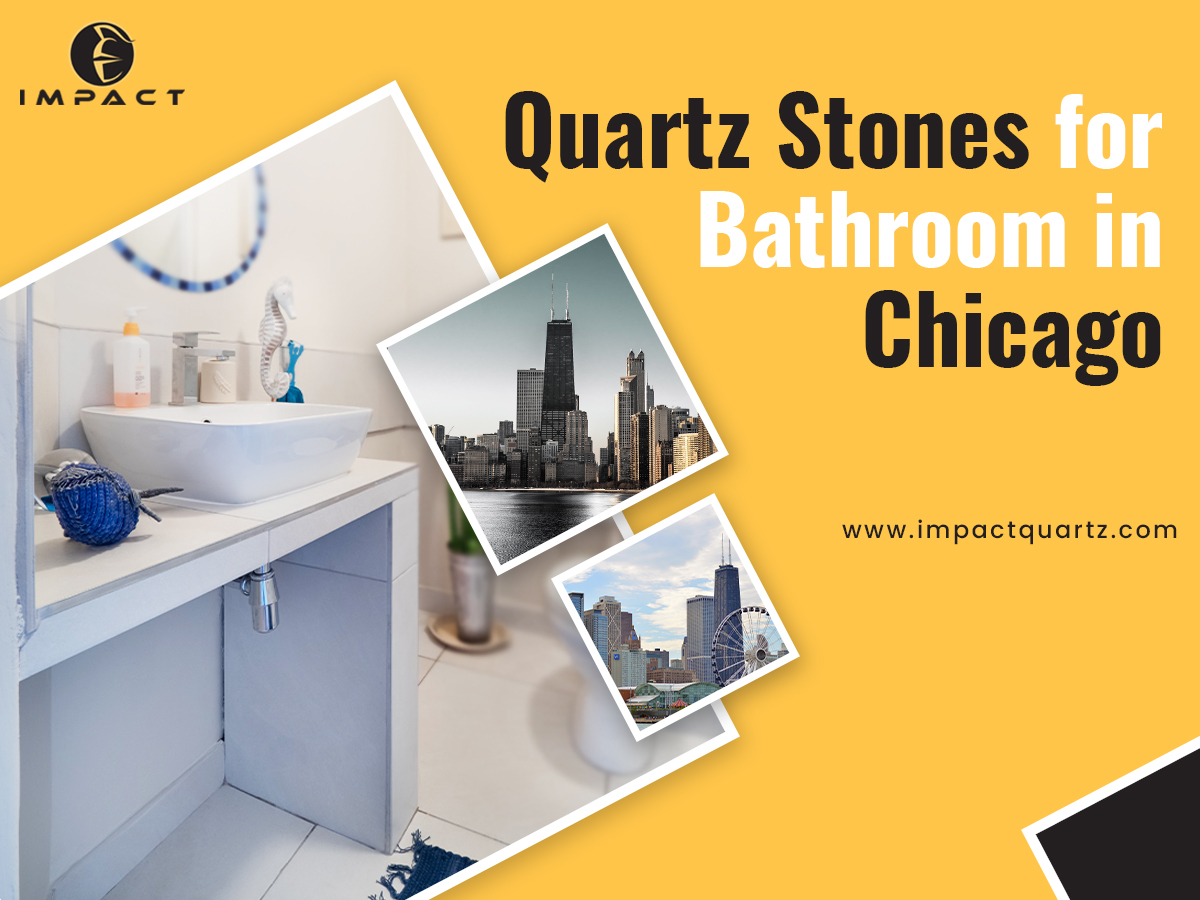 The bathroom is one of the most important elements of your home. This is an area where any homeowner is likely to splurge. Once you find the perfect countertop material, you'll notice that the value of your home increases manifolds. This is where the quartz stones for bathrooms in Chicago come in.
Well, if you are an inhabitant of Chicago, you'll find a myriad of different materials to choose from for your bathrooms. So why should you choose quartz stones for bathrooms in Chicago? Also, are they a good choice for bathroom countertops? The following blog will get you all the answers.
 Understanding Engineered Quartz
First of all, let us start by understanding quartz stones for the bathroom. Even though the quartz countertops are referred to by their names, they are a manufactured material. The engineered product comprises 90% finely-ground quartz. It is then mixed up with 10% of resins, polymers, and pigments.
Being the pioneers in manufacturing the highest quality quartz countertops in Chicago, Impact Quartz can offer a wide array of quartz stones according to the specification of the fabricators and designers. Another difference between quartz stones and other materials is the cost of it.
If you do a simple search, you will find that the cost of other materials is higher compared to quartz. The variations in price depending on the material, color, and installation charges. Depending on the area of Chicago you live in, the charges might vary as well.
Finally, the size of the quartz countertop for bathrooms will have an impact on the price. Even though you pay more for a larger piece, the price per square foot will be lesser. Now, we are going to share the benefits of choosing quartz stones for bathrooms in Chicago.
 Benefits of Choosing Quartz Stones for Bathrooms in Chicago
Enhanced Durability
For your bathrooms, you would certainly want a highly durable surface. Because that is one of the areas of the house that goes through the maximum wear and tear. Thus, quartz stones for bathrooms in Chicago are the best option. Quartz is highly durable and this feature is important for bathrooms. Your bathroom might require acidic elements for cleaning. You might find options with natural stones and wood, but quartz will resist staining, cracking, scratching, and chipping. Also, if you have children, durability is an important concern.
A Wide Array of Color Options
Quartz offers you a myriad of colors, patterns, and variations in choices. You are in luck, if you want a specific color in mind, especially with quartz stones. You can find quartz in almost any color. Thus, it is easy to find the option which will work for your color scheme. You can choose from solid colors or even choose veining or speckles if you want to feel the appearance of natural stone. The good news about quartz stones for bathrooms in Chicago is, you can have a natural appearance without the hassle of maintenance.
Reasonable Pricing
The cost varies depending on different factors. Quartz is a good value for money because of the quality and durability. A lot of designers recommend quartz stones for bathrooms in Chicago. You can save quite a bit of money by choosing the engineered quartz stones. The best part is, you won't have to compromise on the quality of the product. Also, if you are looking for simpler versions of the bathroom countertops, then quartz stones are a great option.
Low Maintenance & Non-Porous
Unlike any other form of stone, quartz is a highly durable material. You will hardly find any stains sticking to it and it doesn't support bacterial growth either. The reason is, quartz is non-porous. Thus, no dust or dirt particles can get inside the quartz stones. Thus, quartz stones are great for bathrooms because this is the place where you will find mold and mildew the most.
Just like any other place in your house, you would want your bathrooms to be as clean as possible. If you choose quartz stones for bathrooms in Chicago, you can get rid of the problem of high-maintenance. Also, quartz is easy to clean because it doesn't need any special cleaning solution. Avoid any harsh chemicals. You can simply use soap and water.
Simple Installation
Apart from quartz, the remaining materials are fairly heavier. Quartz tends to be lighter and thus, it is easier to install. This will help you if you are doing the installations in the bathroom on your own. With quartz, you will have lesser fuss about the installation process even when you are paying for the installation.
Quartz Stones for Bathrooms in Chicago are long-lasting
Quartz stones last for a really long period. In fact, it will not be a shocking fact if you see that a quartz countertop for a bathroom has lasted for a lifetime. If you can maintain it properly, a quartz countertop can even last for a lifetime. It is beneficial especially when you are trying to sell a home. People would love to know that their countertops will not be replaced often.
Now that you know the advantages of choosing quartz stones in Chicago, here are some of the best ways to clean quartz countertops in the bathroom.
 How to Clean Quartz Countertops in Bathroom?
You can start by using water and soap. As we mentioned earlier, you don't need any abrasive chemicals or detergents for cleaning quartz stones for bathrooms in Chicago. If you do, it will be more harmful than good. Thus, don't complicate things. Hot water and soap are all you need to clean the quartz stones for bathrooms.
Also, don't use harsh brushes to grind. Please avoid harsh brushes to avoid scratching in the quartz. Use a soft cloth, sponge, or paper towel. Even though quartz doesn't stain easily, however, if it gets stained, be quick to wipe it off straight away. You don't want to deal with the discolored spots later on.
Do a pre-routine cleanup. Quartz countertops are water-resistant. However, there are certain places where soapy fluids can deposit over time. The best way to deal with them is to do a regular cleanup. The important thing is not to ignore the inaccessible areas. It is recommended to clean the quartz stones for the bathroom at least once every two weeks.
Don't forget to use coasters, especially if you have acidic or alcohol-heavy cosmetics in the bathroom. You might stain the surface by accident. Sometimes you can leave a permanent mark by placing the container after applying something alcohol-heavy. Putting fluids in coasters will prevent it from happening.
Scrape the crust. Do not let its buildup. Also, the same rule is applicable here as well. Do not use cleaners that might damage the quartz stones for the bathroom. Instead, the best option is to take a razor blade and scrape the crust buildup.
 How to Clean Quartz Shower Walls?
There is no denying the fact that the quartz shower walls look amazing. They are quite versatile as well. You can choose from the huge selection of colors, finishes, and patterns from quartz stones for a bathroom in Chicago. The best part is, it looks elegant and expensive yet it is affordable. Now, the question is, how should you clean the shower walls? Here is what to do:
Clean up the shower walls on a daily basis
Only use warm and soapy water without any high alkaline cleaners
Make use of a soft cloth or sponge. These are the best tools for a cleanup.
If you want to polish the quartz counters, then you can use cleaners used for granite or marbles.
Here is what not to do:
Avoid high alkaline and acidic substances. Also, don't use sealers, furniture, or paint strippers.
Don't use any harsh material. Yes, it is true that most of the quartz stones for bathrooms in Chicago are scratch-resistant, but they are not immune to it. Make use of a soft sponge or a piece of cloth for wiping the water off the quartz.
Cleanup without any delay. If you spill something on the quartz surface, don't leave it for a long time. Wipe off the quartz stones for the bathroom immediately otherwise the stain might become permanent.
 Conclusion
Once upon a time, the only preferred element for bathrooms was ceramic, granite, or marble, and sometimes tile. Gone are those days. Today you will find a plethora of choices in quartz stones for bathrooms in Chicago. Thus, it is the best idea to consider quartz as the top option while deciding what to put in for the countertops and shower walls in the bathroom.