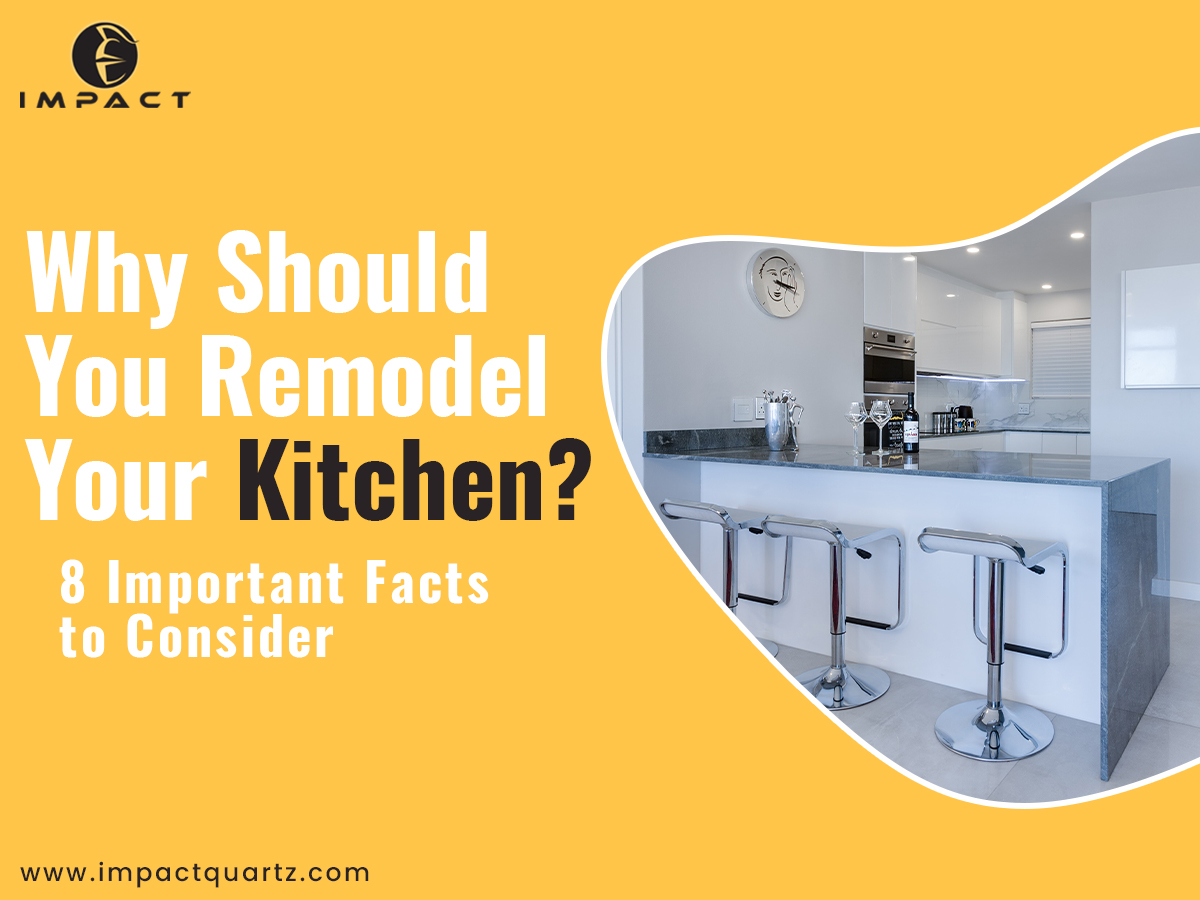 For a lot of houses, the kitchen is the center of attraction. It is not only a functional area for preparing meals, but it also serves as the central meeting place. Yes, it is true that kitchen remodeling is a daunting task. Not only it is about the const, but also the inconvenience it will cause to the people residing in the house. Despite this, most of the homeowners do think about remodeling the kitchen every once in a while.
Remodeling the kitchen is a highly important and relevant job. Thus, you have to think about too it at one point in time. The reasons to remodel the kitchen will vary depending on the usage. Some might just want to upgrade the kitchen while others might want to add value to the kitchen. That being said, let us present to you some of the primary reasons why you should remodel your kitchen.
1. Kitchen remodeling increases the value of your home
Believe it or not, this is one of the most important reasons why most homeowners want to remodel the kitchen. When you have a freshly remodeled kitchen, you can sell your home/property above the list price.
A new kitchen plays a pivotal role in getting your better price than the average list price. An outdated kitchen doesn't meet up with the functional needs making it even difficult for you to sell the house.
A kitchen renovation is considered to be the #1 home improvement trend. According to the median price list on homes, the price of a house with a new kitchen is $14,500 more than the national median.
Thus, you have got a pretty good reason to renovate your kitchen, especially if you are planning to sell the house. Consider it as your investment.
2. A better lifestyle and convenience
For the majority of the homeowners that are planning to renovate their kitchen, convenience becomes a crucial element. If your present kitchen doesn't meet all your needs (too small, not well planned, etc.) then it is time to renovate the kitchen.
This is where you have to think about what exactly you need from the kitchen. For instance, if you need the kitchen to be more spacious, you can extend the counter or add an island.
On the other hand, if you are looking for more storage, then you can opt for the hanging cabinets. These will get you the extra room for storing the pots, pans, and dry goods.
3. Better aesthetics
Not all the kitchen renovations are done to upgrade things. Some are done to enhance the aesthetic appeal of the kitchen. The design that looked beautiful five years ago, might look to be outdated now.
Better designs offer a better appearance and aesthetics. Not every kitchen renovation always has to be functional. Upgrading the kitchen designs is about the way you feel about the kitchen.
Right from the counter to the cabinets, there is a myriad of ways for improving the space in the room. Some of the most popular kitchen upgrades include using quartz countertops, an eat-in-area, using hardwood floors and stainless-steel appliances.
All you have to do is trust your instincts when it comes to kitchen renovation. Follow your own taste and create your dream kitchen.
4. More Space
If you're tired of using the same crappy place to cook, then a kitchen renovation can make things better than you can begin to imagine. A kitchen renovation can help you maximize the space and make you feel good about yourself while you cook.
Doesn't matter if you have a small kitchen because if things can be organized in the right way even a small place can look great. Add things like some extra cabinets or some extra kitchen islands.
You can even take down some walls to expand the kitchen or create a combined kitchen cum dining area. Even a small home can be improved if you can use the remodeling opportunities in the right way.
5. Energy savings
This is another very important reason to indulge in kitchen renovation. When you add more sunlight and skylight, it eradicates the need to use artificial light. You can also install solar energy-efficient appliances and water heaters to reduce the electricity bill.
This is also an eco-friendly way to renovate the kitchen. If you want to reduce the costs and also create something eco-friendly, renovating a vintage kitchen will offer better ways to save energy. Updating a kitchen to use smart gadgets is something that will essentially reduce energy costs.
6. Technical improvements
This is another important reason for kitchen renovation. When you plan to renovate the kitchen, remember that there are no one-size-fits all. Do you think that that the 1980's oven or refrigerator can meet your needs?
No, it won't. A customized kitchen remodel also focuses on technology. If you want to install something high-tech, then you have to opt for a kitchen upgrade.
You will find kitchen appliances in all shapes and sizes. Right from the fridges with wi-fi to ovens offering quick preheat functionality. Upgrading your kitchen with the latest technology makes cooking meals easier and faster.
You can check out different home improvement stores or work with a professional kitchen renovation contractor to know the pros and cons of different kitchen appliances.
Appliances that offer great functionality while also reducing waste are there in the market in different forms. Right from the low-energy refrigerators to the microwaves with convection options. If you truly maximize the eco-friendly home upgrades, you can go beyond the kitchen alone.
7. Lifestyle improvements
The kitchen that was suitable for a previous homeowner, may not be suitable for you. You might want a breakfast bar but it doesn't have one. Perhaps you would want to have a small family and informal family gathering in the kitchen and enjoy the coffee or grab a quick meal without having to go to the dining room.
Whatever the reason is, if it doesn't suit your needs, there is a scope of a kitchen renovation. Let a professional kitchen designer help you to arrange the room in the best way that suits both your and the family's needs.
8. Consider a gourmet kitchen
If you are a homeowner who loves preparing delicious meals, then they're a very important reason to consider a kitchen renovation. The desire of a gourmet chef is to have the kitchen of his/her dreams.
Broken tiles, countertops peeling apart, broken cabinets, or missing doors don't inspire gourmet cooking for family celebrations. A gourmet kitchen with better amenities is always a better option.
In conclusion, remember that remodeling the kitchen is never a requirement. However, you will always have options to improve your kitchen. If you are planning to sell your house or you are not happy with the cooking space of your present home, then choosing a kitchen remodel is a good option.
Get in touch with the pros of kitchen decor/remodeling who can identify your needs and offer solutions that meet both functionality and fashion. Whether you are looking for more space, better tech, or planning to sell, it is never too late to upgrade your kitchen.