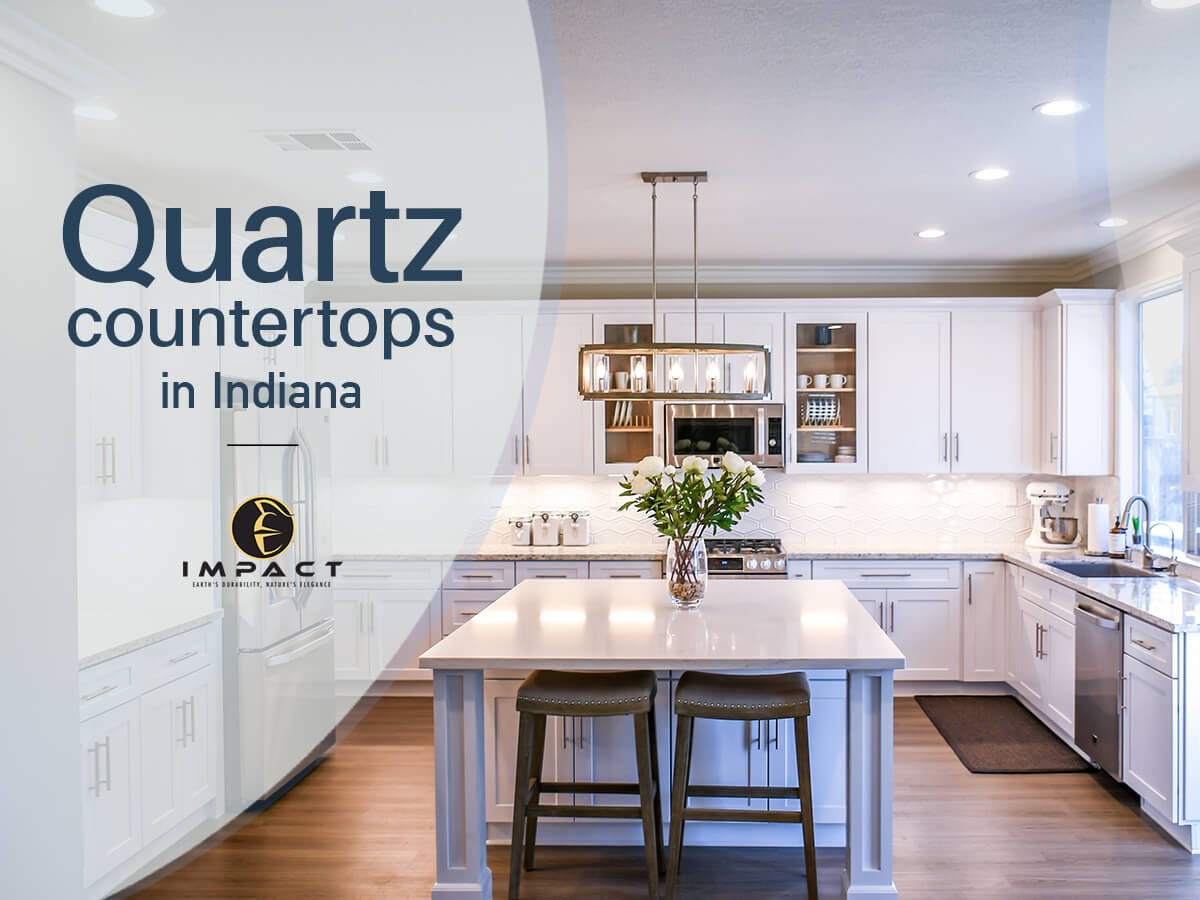 Quartz is processed from one of the hardest materials on earth. Thus, it is an ideal material for a long-lasting and durable countertop compared to other materials. At Impact Quartz, we offer a wide array of quartz countertops in Indiana. You will also find them in different patterns and colors. Being professional designers and fabricators, you shall love the collection of quartz countertops in Indiana that we have.
If you are in a dilemma on which of the pattern or colors will be suitable for your customers, our staff will sit down with you, review the project requirements and help you in choosing the best design. All the surfaces are not equal. We understand that. Thus, some are better equipped for specific places. For instance, some patterns of quartz countertops in Indiana are better suited for bathrooms, while others look better in Kitchens.
Not only you shall have the premium quality quartz products from Impact Quartz, but also, we can help you determine the best for stain resistance and moisture. The beautiful patterns, colors, and variations of quartz, along with a hard surface, makes it an ideal option for countertops. Quartz is also resistant to heat, stains, and scratches. Also, it will protect the wet areas against all sorts of molds and mildew.
If you are looking for design patterns and ideas for your customers in Indiana, Impact Quartz is the place to choose. We deliver our products in different areas including, Fort Wayne, Evansville, South Bend, Carmel, Fishers, Hammond, Bloomington, and more. Delivering cutting-edge countertops, we take pride in our unmatched reputation for quality, customer service, and competitive pricing. You will find everything under one roof.
Why should you choose Impact Quartz?
Impact Quartz offers the highest quality countertop products that will fit the taste and budgets of all your target audience. We have got the experience and we are confident about the fact that we offer the finest quality kitchen countertops in Indiana.
Right from the start of our journey, we have had only one goal. To surpass client expectations by offering absolute perfection. We know that every designer, architect, and fabricator, who is seeking quartz countertops in Indiana, is also looking to offer their clients something unique.
This is where we come in. At Impact Quartz, we specialize in the following types of quartz countertops in Indiana. They are:
Ravinia
Tuscany
Stratus
Snow Flurry
IVY
Carrara Cloud
Calacatta Grigio
Gold Coast
Cumulus
Thus, you will get a lot of options to choose from. Also, we know that as a designer, you would want to know the exact patterns and designs. Therefore, you can always have a look at our collections to get an idea of the kind of materials, colors, and patterns you are going to get.
Impact Quartz is proud to be in an industry-leading position. So you can rest assured that the classic designs and styles will also reflect on our products. Every quartz countertop in Indiana that we offer, has got a unique story to tell. We know that a beautiful kitchen shows off the choice and style of the people who live in the house.
We know that you want your customers to have the perfect quartz countertops in Indiana and we are here to make sure that you help them get it.