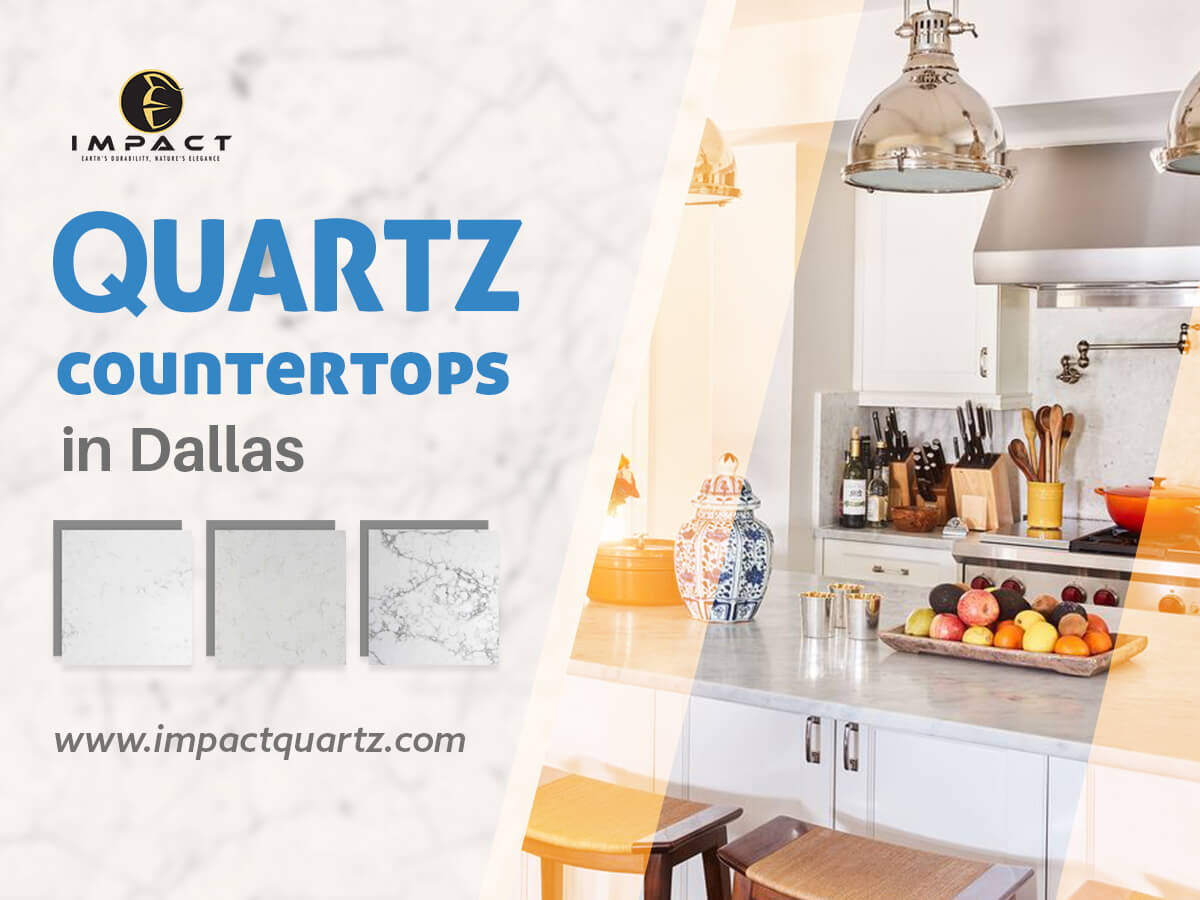 As the premium manufacturer and supplier of the highest quality quartz products, Impact Quartz ensures your value for money. Along with offering the highest quality Quartz countertops in Dallas, we also ensure variety. Being a fabricator, or a designer, we know that you will also look for tailored quartz countertops. This is where Impact Quartz comes in.
At Impact Quartz we offer nothing but the best quality quartz countertops in Dallas. We stand behind our craftsmanship and quality of products. There is no doubt that Quartz is one of the most popular products to be used in kitchen countertops. Also, you can use it in different other interior sections of your house as well.
Quartz is the type of material that is very hard. Also, it has got a clear color. The color and patterns are added during the process. With recent advances in technology, it is now possible to include much better variations, colors, and patterns. Rest assured that the finished product is tough and non-porous. Also, you can have it in any variations you want.
One of the best advantages of the quartz countertop is, the manufacturing process makes it non-porous. Thus, they don't need to be sealed. Also, the quartz countertops are non-brittle, scratch-resistant, and offers a very contemporary appearance. There is no doubt that quartz makes excellent kitchen countertops.
Many people who choose quartz for their kitchen countertops do so because either they like the contemporary feel or they just like the concept of not having to seal it.
Why should you choose Impact Quartz?
At Impact Quartz, you shall not only find the premium quality quartz countertops in Dallas but we also strive to offer complete customer satisfaction. Right from the start, our sole purpose has been to offer the highest quality quartz countertop products in Dallas. We are your one-stop-shop solution for consultation, design, manufacturing of quartz countertops. Also, we deliver quartz products for both residential and commercial purposes at affordable prices.
Once you have a quick look at the collection of the quartz products that we have, you shall know what differentiates us from others. Impact Quartz has got carefully curated stone countertops that ensure the best quality and aesthetics. Our primary goal has always been to offer the best quality of customer service. Thus, we focus on delivering a perfectly finished product for all the designers, fabricators, and developers. Once you choose Impact Quartz, rest assured that you shall never regret your investment.
When you buy from Impact Quartz, you will get the quartz countertops in Dallas that your audience will love. This is why we work closely with architects, fabricators, and contractors to make sure that you get exactly what your audience wants. You can get quartz countertops delivered in different areas of Dallas that include Dallas Design District, Deep Ellum, Downtown, Fair Park, Greenville Avenue, Highland Park, Knox Henderson, and more. We prioritize the delivery time while considering your schedule and requirement.
Obviously, you will look for variations in the different forms of quartz countertops in Dallas. Our specializations include:
Ravinia
Tuscany
Stratus
Snow Flurry
IVY
Carrara Cloud
Calacatta Grigio
Gold Coast
Cumulus