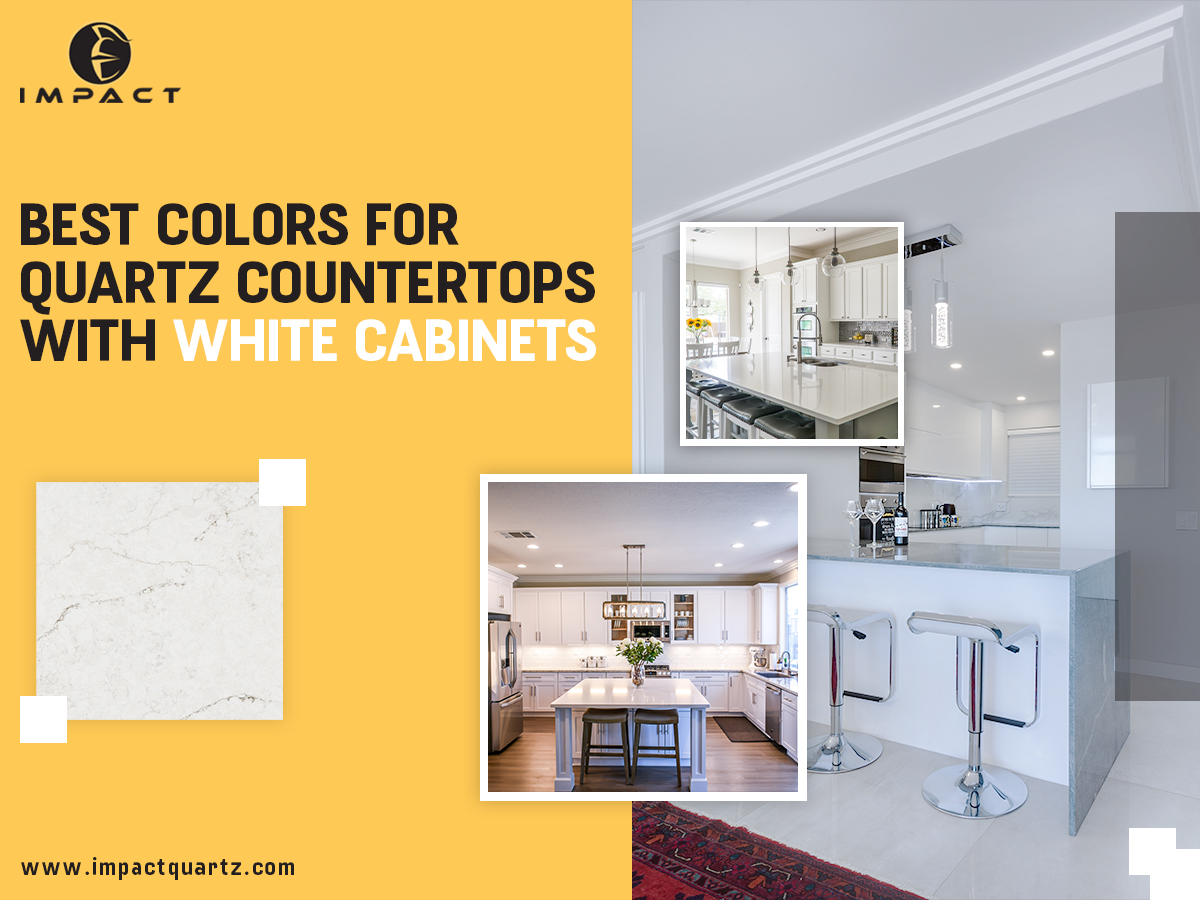 Kitchens with white cabinets are very much popular and preferred by a lot of people these days. In fact, most of the houses will have white kitchen cabinets. Yes, you can choose to have all the white elements you want in your kitchen. However, there are also other variants and combinations you can use in your kitchen and they look good. One of the most important benefits of quartz countertops for kitchens is you will have a wide array of colors and styles to choose from. Right from the bright white to taupe to black, there is a color that can be paired well with the kitchen cabinets. The cabinet color and countertop color doesn't have to match always. You can also use contrasting colors. While matching looks fine, choosing contrasting colors can also make a great visual impact. In the following section of the blog, we shall share the different colors that go well with white-colored quartz countertops. But before we get into that, here is how you can choose the best countertop color that goes with the white kitchen cabinets.
How to choose the color countertops with white kitchen cabinets?
The first step is to decide on an overall theme and then choose a cabinet door style and color. This is applicable whether you are refacing, getting new cabinetry, or creating a custom design. Selecting the color palette is the next thing to do. You can choose whether you want to add a warm or cool tone. This will make it easier to choose the countertop color and thoughtfully compliment or contrast your design. The third step is to finalize budget options and then choose a countertop material that best suits your needs. The best option is to choose quartz countertops because of their durability, longevity, and ease of maintenance. Now, let us have a look at the variations in countertop colors for white cabinets.
What are the best colors for quartz countertops with white cabinets?
Start with blue 
Blue offers a soothing effect and you can use this peaceful aura in the kitchens. Along with white cabinets, the blue quartz countertops can bring the vibe of the cool sky to your kitchen. This is ideal if you have an ocean-themed cooking space. With a touch of green, the presence of blue and white will make you feel that you are in the Caribbean. If you want something customized or classical, then you can opt for a darker shade for the quartz countertops with white cabinets. For a lighter effect, you can choose a gentler hue. To add a bit more visual appeal, you can add a pattern to it.
The classic black & white combo
This is a good old traditional combination that can make your kitchen look amazing. Black can always be your go-to color if you are looking for a contrasting color with white. Black quartz countertops with white cabinets is a timeless and ageless chic look for any household kitchen. The best part is, it is a nice complementary color for all sorts of kitchen appliances, especially when are metal-colored. Another important aspect of the black quartz countertops is it will not get dirty easily. Thus, it is easy to maintain. With black quartz countertops for the kitchen, you can add a modern yet traditional vibe to your kitchen. It will depend on the theme of your kitchen. Therefore, it is a unique combination.
Brown – a neutral color
If you want to bring an earthy tone, then brown is the best option. This is a neutral color that is bound to captivate you. The color comes with a touch of natural vibe to your kitchen. It is an ideal option for those who prefer an eco-themed kitchen. Brown quartz countertops with white cabinets also emit a warm glow within a kitchen. This looks nice if you have got numerous wooden cookware and also some indoor plants. The brown color also adds a pleasing aesthetics if you have got wooden floors.
Gray – the fusion of modern and traditional
With white cabinets, the gray quartz countertops can offer an industrial and sleek look to the kitchens. Especially when you use the color charcoal gray. The kitchen will have an ultra-sleek look and feel. Just like the black quartz countertops for the kitchen, the gray color is also easy to clean. Not only it can add a classic touch to your kitchen but also you can customize it with marbling or specks. If you prefer bold colors while choosing the kitchen decor, then you can easily opt for the gray quartz countertops.
Last but not the least – Beige
Beige is ideally a superstar in the world of neutral colors. This is why it has got a huge fan base. There is no denying the fact that beige adds a royal touch to the kitchen. Just like any other neutral colors we have mentioned above, you can pair beige with any color of your choice. The important thing is, you can pair it beautifully with kitchen cabinets. Beige exudes elegance! Paired along with the classic designs and decorations, it can have a significant impact on the overall look and feel of your kitchen. Thus, you can surely try Beige quartz countertops with white cabinets.
Closing statement
Any color you choose among these suggestions, you can rest assured that you will have a luxurious and comfortable kitchen space. We, at Impact Quartz, will present you with a myriad of options when it comes to the quartz countertops for the kitchen and bathroom. If you are a designer, fabricator, or developer, we have got experienced professionals that will collaborate with your directly to help you choose the perfect designs for your audience. When you present the right quartz countertop design it will leave your audience satisfied for a long time. From the dark shades to the light ones and everything in between, we can present you with the best quartz countertops designs to pair with your white cabinets.