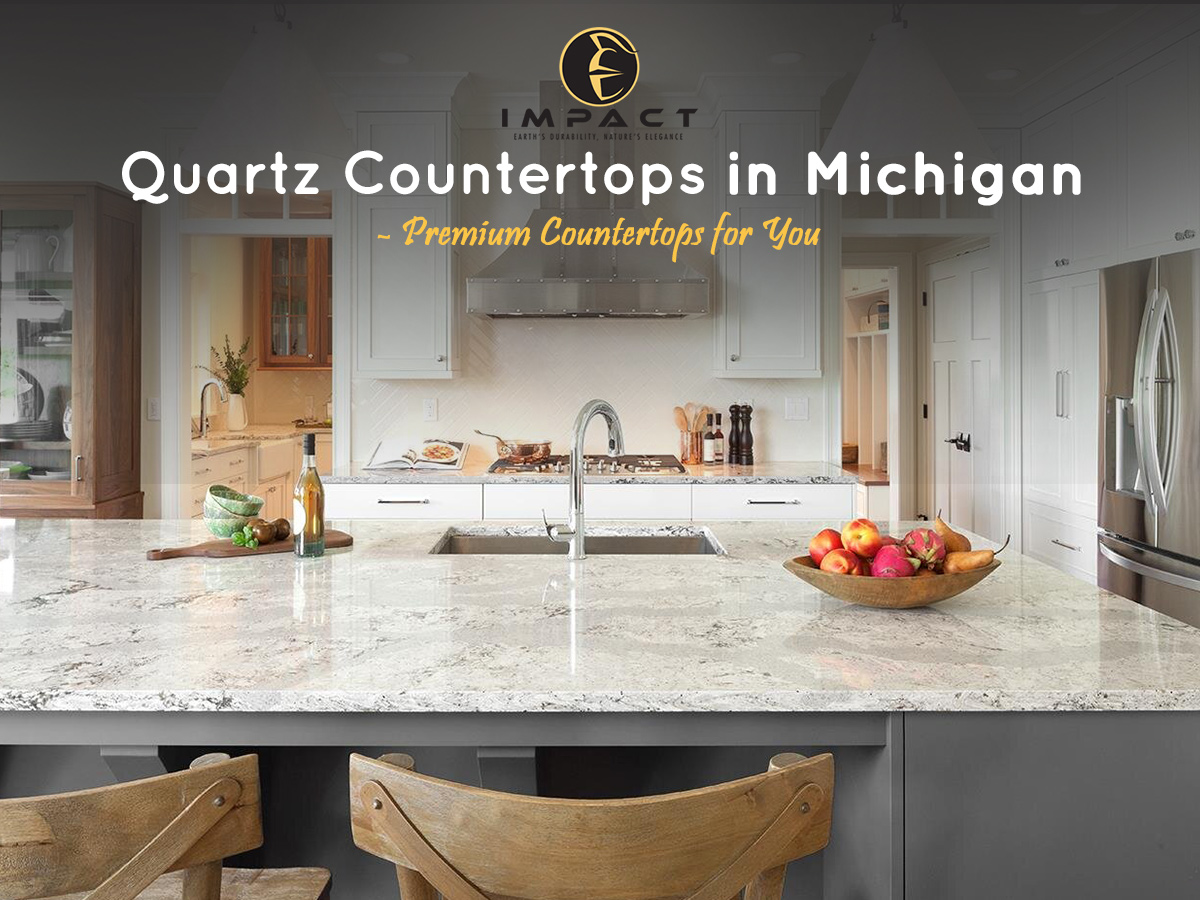 There is no denying the fact that Quartz countertops in Michigan are one of the most reliable choices. Because of the strength and durability, quartz is so much preferred by designers, fabricators, and architects. Quartz is a natural stone. Thus, the amount of quartz in a slab will depend on the quartz manufacturer.
Anything great in history is achieved through a relentless commitment to perfection. Since its inception, Impact Quartz has only focused on one goal – surpass client expectations by delivering perfection. We understand that every designer, fabricator, and architect looking for quartz countertops in Michigan, is also looking for something unique.
This is where our experienced and professional manufacturers come in. At Impact Quartz, we specialize in multiple variants of Quartz countertops in Michigan. These include:
Ravinia
Tuscany
Stratus
Snow Flurry
IVY
Carrara Cloud
Calacatta Grigio
Gold Coast
Cumulus
As a designer, it is also important to know the exact designs that we shall deliver. Thus, you can have a quick look at our collections to know the kind of materials, colors and patterns you will get. We are proud to be in an industry-leading position and your trust is of utmost importance to us.
You can choose the stones, also the designs, patterns, everything and we will be the ones to deliver exactly what you chose. Every quartz countertop we install in Michigan has got a unique story to tell. Not only have we perfected the art of craftsmanship but also we ensure impeccable customer service.
Why should you choose Impact Quartz?
At Impact Quartz, we are passionate to unlock the beauty, utility, and power of the natural quartz stone so that you can redefine any homes, hotels, and interior kitchen designs. The slabs we have in stock will offer you the best bang for your buck. It is always good to have a look at the best quartz countertops in Michigan.
Being Michigan's largest quartz countertop manufacturers with a wide array of unique slabs, we feature a premium selection of quality quartz products. Always remember that a great kitchen shows off the style and usability of the inhabitants. Thus, as a designer or fabricator, we understand that you will be looking to offer them a perfect design.
This is where our specializations come in. Our expert technicians and experienced project managers will coordinate with you on all the materials and measurements. Thus, it will be a seamless experience to work out all the details and variations for the finished product.
Our custom quartz countertops in Michigan offer a durable and long-lasting surface that is capable of resisting multiple forms of damage. The range of quartz products is also available in different regions of Michigan that include Detroit, Grand Rapids, Warren, Sterling Heights, Ann Arbor, Lansing, Clinton, Flint, Dearborn, Canton, Livonia, and more. Thus, you can avail of the highest quality quartz countertops in Michigan including all these areas as well. Whether a kitchen needs renovation or you are designing a bathroom, Impact Quartz has got the best quartz countertops in Michigan for all the requirements. As a designer, you are going to put a lot of thought and effort into making the kitchen perfect. Thus, allow Impact Quartz to make things easier for you by offering premium quartz countertops in Michigan.